Vectra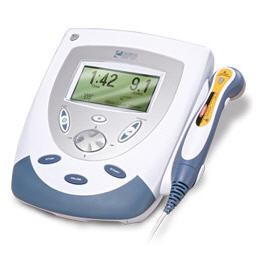 The Chattanooga Group (which was purchased by DJO Global) offers a clinical grade cold laser called the Vectra Genisys. This unit includes a separate control module and emitter design that allows for the selection of a wide range of emitters. The system can also be integrated into a more complete system using special modules.
The Vectra Genisys Laser Therapy System is an easy-to-use cold laser system that features a similar case design to other Chattanooga Group products. It has a professional looking therapy cart option.
The controller features a large, easy-to-read monochrome LCD display and a battery pack option for portable therapy operation.
The Genisys controller features:

Independent control over all parameters
Display of dosage in choice of joules or joules/cm2
Choice of eight interchangeable Laser Diode and Cluster Applicators with wavelengths ranging from 670nm - 950nm and output power
Slightly pulsed and continuous treatment operation (90% and 100%)
Fully variable pulse frequency range of 8Hz - 10000Hz and continuous
Unit uniquely designed for table top, wall mount, therapy cart, or mobile use
Useful selection of clinical indications
Ten user-defined memory positions for user protocols
Real time feedback of theoretical dosage delivered
ranging from 100mW - 1440mW (dependent upon applicator)
All laser applicators are interchangeable due to Electronic Signature recognition residing on each applicator
Also available as module for complete Vectra Genisys Therapy Systems (combination cold laser and ultrasound)
Includes 2 pairs of Laser protective eye wear
Emitters
Chattanooga Group products uses light to penetrate tissue for increased blood flow and more rapid healing. Clinically proven and long popular in Europe, laser therapy is now cleared to market in the United States by the FDA. Because of its superior ability to stimulate rehabilitation versus other laser therapies, Chattanooga Group's system is preferred by clinicians.
The smallest emitter offered by the Chattanooga Group is a single diode 850nm 100mW pinpoint emitter with no LEDs and no SLDs. Their largest emitter is 33 diodes including 5 x 850nm 200mw lasers with 8, 880 nm 25mW SLDs, 8 x 950nm 15mW SLDs, and 12 670nm 10mW LEDs.
The Chattanooga Group also offers an ultrasound unit with a similar design. This system is made in the USA. Chattanooga Group is the world's largest manufacturer of rehabilitation equipment for treating muscular, skeletal, neurological and soft tissue disorders. With over 5,000 employees and over 1,000 products, they have a huge presence in the rehabilitation market.