3b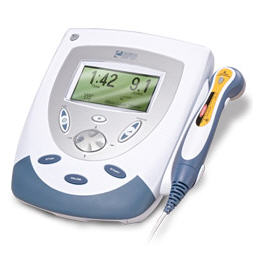 Chattanooga (which was purchased by DJO Global) offers a clinical grade cold laser called the Vectra Genisys. This class 3b laser system includes a separate controller and emitter that allows users to build a semi-custom system. The laser modality can also be integrated into a more complete single controller system using special modules.
The Vectra Genisys Laser Therapy System is an easy-to-use cold laser system that features a similar case design to other Chattanooga products. It can be installed on a professional looking therapy cart for use in offices with multiple treatment rooms. The basic laser controller features a large, easy-to-read monochrome LCD display; and a battery pack option for portable therapy operation. When the laser is integrated into a multi-modality system, the display is color. The Vectra Genisys systems feature:

Independent control over all parameters
Display of dosage in choice of joules or joules/cm2
Choice of eight interchangeable Laser Diode and Cluster Applicators with wavelengths ranging from 670nm - 950nm and output power
High duty cycle pulsed and continuous output treatment operation (90% and 100%)
Fully variable pulse frequency range of 8Hz - 10000Hz and continuous
Unit uniquely designed for table top, wall mount, therapy cart or mobile use
Useful selection of clinical indications
Ten user-defined memory positions for user protocols
Real time feedback of theoretical dosage delivered
ranging from 100mW - 1440mW (dependent upon applicator)
All laser applicators are interchangeable due to Electronic Signature recognition residing on each applicator
Also available as module for complete Vectra Genisys Therapy Systems (combination cold laser and electrotherapy)
Includes 2 pair of laser protective eye wear
Standard 2 year warranty
The Chattanooga Vectra Genysis product line allows for the creation of a wide variety of semi-custom systems. Systems can include up to four modality including laser, electrotherapy, EMG diagnostics and ultrasound. All the systems we sell include the laser module so the controller can perform cold laser therapy. We do not sell systems without the potential for laser therapy. All systems require the purchase of a controller and associated applicators/accessories. Please call us if you need a custom built system with carts and other accessories. Here are some imp or at ant fact about multi modality systems:
The electrotherapy uses self-adhesive electrotherapy pads are typically disposable and are sold in bulk (10 packs)
The EMG system uses lead wires allow for measurement of electrical impulses in the muscles. This information can be used to for patient diagnostics.
System with ultrasound are available in 2 or 4 channel systems. The ultrasound applicator requires the use of a gel.
Please call us for a quote on a combination system that includes EMG or ultrasound.
Controllers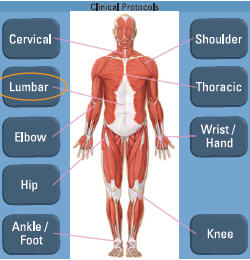 We offer 2 standard options for base control units The laser-only system includes a monochrome display of pulsing frequency and output. The Laser/Electrotherapy system has a full color display that with an internal library. This system can be used for either laser or electrical stimulation but does not do both at the same time. The electrotherapy/laser controller operates using 2 channels when in the electrical stimulation mode. The electrical stimulation on this system is up to 100 times more powerful than similar systems like the TerraQuant LaserStim and MR4 LaserStim. Please call us to if you interested in adding EMG to a system.
The Chattnooga Vectra laser emitters are not compatable with the Intelect or NEO series of controllers, only the Genisys series!
Every system requires a controller and at least one probe (listed below). All systems include the laser-therapy protocol library for supplementing the factory manuals and protocols.
Chattanooga Vectra Genysis Laser Controller
Monochrome display. Emitters NOT included, sold below.

$1,649.21

Chattanooga Vectra Genysis Laser/ Electrotherapy/Ultrasound Combo Controller
Color display. Includes your choice of ultrasound emitters, lead wires, pack of 10 pads and laser adapter. No EMG. Laser Emitters NOT included, chose from the options below.


$4,398.92
Chattanooga Vectra Genysis Laser Adapter Modules
(for adding a laser to an existing Genysis system)

$1,209.43
Chattanooga Vectra Genysis System Cart
Includes 3 draws for storage of all the accessories and attachments.
$455.44
Emitters
Chattanooga probes use Infrared lasers and red LEDs and SLDs to penetrate tissue for increased blood flow and allow for more rapid healing. Because of its superior ability to stimulate rehabilitation versus other laser therapies, Chattanooga Group's system is preferred by many clinicians. Use the single laser diode probes for trigger point therapy, laser-accupuncture and for treating smaller areas. Use the cluster probes for treating larger areas. Higher power probes will have shorter treatment times or you can go to higher dosages. The number one recommended emitters for general structural therapies are the 9 diode 1040mW cluster probe and the 33 diode cluster probe. The 300mW single diode probe is recommended for trigger point and laser puncture therapy.
Single Laser Diode Probe - 100mW @ 850nm
Price includes delivery and training.

$1,336.73

Single Laser Diode Probe - 200mW @ 850nm
Price includes delivery and training.
$1,640.53
Single Laser Diode Probe - 300mW @ 850nm
Price includes delivery and training.

$2,065.86

9 Laser Diode Cluster Probe - 540mW Total Power
5 x 850 nm 100mW Laser
4 x 670 nm 10mW LED
$2,673.46

9 Laser Diode Cluster Probe - 1040mW Total Power
5 x 850 nm 200mW Laser
4 x 670 nm 10mW LED
$3,220.30

13 Laser Diode Cluster Probe - 415mW Total Power
3 x 850 nm 100mW Laser
3 x 950 nm 15mW SLD
7 x 670 nm 10mW LED
$2,296.75

13 Laser Diode Cluster Probe - 715mW Total Power
3 x 850 nm 200mW Laser
3 x 950 nm 15mW SLD
7 x 670 nm 10mW LED
$3,031.95
33 Laser Diode Cluster Probe - 1440mW Total Power
5 x 850 nm 200mW Laser
8 x 880 nm 25mW SLD
8 x 950 nm 15mW SLD
12 x 670 nm 10mW LED
$3,584.85
The Chattanooga Group also offers EMG and ultrasound unit with a similar design. This system is made in the USA. Chattanooga Group is the world's largest manufacturer of rehabilitation equipment for treating muscular, skeletal, neurological and soft tissue disorders. With over 5000 employees and over 1000 products, they have a huge presence in the rehabilitation market.