Pets
A Guide to Animal Therapy Lasers for Dogs and Companion Pets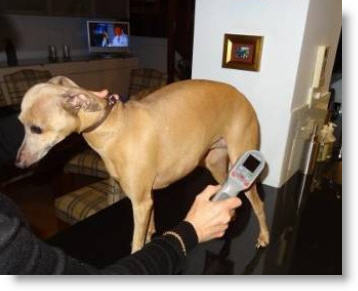 The veterinary and companion pet portion of the therapy laser market is the fastest growing segment for laser therapy. This is because most of best testimonials for cold lasers are in the veterinary field and companion care. There is no possibility for a placebo effect with animals so when an animal is treated with a cold laser and then they return to normal behavior; it is obvious that the therapy is really making the difference. We hear this story everyday; "My dog could not walk into the vet's office and then he jumped back into the car after the laser therapy session." The results speak for themselves. Here are some of our options, followed by some recommendations:
System
Features
Price
Biophotonica ReGen Laser
Dual, Tri and Quad wavelengths up to 60.3 watts
Great quality, nice emitter design, best price/watt, Great for larger animals and higher volume practices.
$17,400 and Up
EVO FX (FDA Cleared) Class-4
3 Wave up to 45,000mW, High Dosage, Pulse & CW
Maximum power for high-volume practices, fast treatment times and quick results.

$24,000 and Up
EVOlaser (FDA Cleared) Class-4
Single, Dual and Quad Wave up to 30,000mW, Pulse & CW
Internal Horse, dog, exotic pet (and human protocols)
Great for home to mid-size practice. Highest quality at a low price.

$8,950 and Up
Apollo Portable (FDA Cleared) Class-4
3000 mW at 810nm, CW Only
Portable and simple to use, Includes Dr. Curtis Turchin's "Veterinary Laser Therapy"

$6,051
Avant LZ30P, X and Z Portable (FDA Cleared) Class-3b
Up to 1400 mW @ 808nm & 1000mW @ 637nm
Both broad and fine point coverage, Made in US. 3-year warranty. Top quality in every way. Includes support from a doc.

$4,850
$6,250
$7,000

PowerMedic PL 1500 (FDA cleared) Class-3b
3000mW peak*, 1500 mW pulsed output at 810nm
Simple to use, pulsing only. Very high power for a class-3b.

Starting at $3,995
Laserex 3000-808-450a Portable (NOT cleared) Class-3b
450 mW @ 810nm, Pulse & CW
Pulsing and continuous
Interchangable heads for different applications. Color display of time and dosage.

Starting at $2,672
* If you buy an FDA cleared system, you get training for animal and humans. If the system is not FDA cleared, we can only train you on using it on animals.
The requirements for veterinary use are different from the requirements for home use lasers, office lasers or equine lasers. This is a guide for use of cold lasers for vets and companion care, especially laser therapy for dogs.
FDA Requirements
The FDA does not regulate cold lasers for use on animals. This means that users are free to buy either an FDA cleared devices or lower cost non-FDA devices. Just be careful because some non-FDA lasers may have be extremely low quality. Companies that don't have the organization to get FDA clearance, often have other problems too. In some cases, they might have fake specs, be illegally smuggled systems or just be laser pointers or flashlights that they call a therapy devices to make a quick buck. These companies often disappear if you need support.
When comparing lasers, make sure you match up the specifications and include construction quality as well as the other factors to determine if it is a good value laser or just worthless junk. We specify performance the requirements and test all the laser we sell so our non-FDA cleared lasers are the very high quality and include a high level of support.
With a few exceptions, anyone can buy any cold laser for animal or companion care.
In veterinary care, there are 2 types of treatments
Broad (Tissue, Skeletal, Joint and Ligament) Therapy - Treating structural injuries and broad areas of damaged tissue is typically done with a large diameter emitter. Cold lasers for this application usually have a treatment diameter the size of dime to a silver dollar. Class 4 lasers, over 5 watts, use a laser module and a fiber optic cable to get the energy to the emitter head. Below 5 watts many manufacturers use multiple laser diodes to create a combined treatment area. In general, laser below 100mW can take a very long time before they produce a noticeable difference in an animal.
Trigger Point or Acupoint Therapy - In trigger point and acupoint therapy, a smaller diameter emitter is used to excite an area of the animal's body that will trigger a systematic reaction. These probes have a max power level of 500 mW. Probes with less than 50 mW are probably underpowered and increasing the power of a pinpoint beam to more than 500 mW would only make it more dangerous. If you are treating small animals including small dogs, cats and hamsters in this type of format, it may drive your selection process and you may want to read our guide to acupoint and trigger point therapy, for extended information. Of course, if you have a broad treatment laser, you can use it for treating acupoints and trigger point by just resetting the entire area. This might not be precise enough for some practitioners but it is a common practice.
Some systems have options for both types of emitters or they sell an option to safely concentrate the output from a larger emitter into a pinpoint.
Power, Wavelength and Pulsing
In general, we make recommendations for systems based on our golden rule for maximum efficacy.
Veterinary cold laser efficacy is based 60% on the power level (or dosage), 20% on wavelength and 20% on pulsing frequency.
Power: The power controls the dosage and the dosage is the key to success. Too low a dosage and nothing happens. Too high and you get maximum pain relief but maybe not the optimum healing. Higher power lasers will provide a higher dosage in a reasonable amount of time and that will provide more noticeable results. Higher power laser do not push the energy deeper, only faster. Many smaller dosages can provide the same results as a few big doses and some practitioners think many smaller doses are actually better. Many pet owners do not have the patience to handle many smaller dosage so a more powerful system is required to provide more immediate results. (Read more about power requirements for lasers) We typically do not sell any system under 450 mW of power because lower power lasers deliver inconsistent results. They might work but they might be a total failure. A 500 mW therapy laser will deliver 450 Joules in 15 minutes. This is a good starting point for many therapies.
Wavelength: It is the wavelength that determines the depth of penetration (or the absorption rate of the light energy as it travels through of the tissue). Selecting the proper wavelength is critical to delivering consistent results. There is NOT one perfect wavelength for every application but studies show that 800 to 860nm is the best option for most therapies. For some applications (like superficial damage, abrasions, hoofs and cuts), Red (635nm) is the better wavelength. 905nm also provides good efficient energy transfer to the blood. In general, 980nm systems are extremely low efficiency therapy lasers because most of the power at 980nm is absorbed by the water in the tissue. This will increase circulation in the area and provide good pain control but 980nm systems are not the best wavelength for many applications because any energy that is converted into heat is not converted in chemical energy which is the main goal of photobiomodulation. (Read more about different wavelengths and how they have different interactions with the tissue).
Blue lasers and blue light sources are whole different breed. They are sold because this wavelength of light is antibacterial and antiviral. If you can drive the light deep into an infected area, it might help but most blue light systems (like LED cleaning systems) are so underpowered that we consider then dangerous because users think they are killing the bacteria or virus but the system is not.
Pulsing: In general, the consensus is that pulsing is better for most application and continuous wave is best for rebuilding nervous system damage (*See Study Here). Pulsing the laser adds additional benefits in an addition to photobiomodulation. Also, pulsing the laser might keep the body from adapting to the input and reacting less to the therapy over time. The human body adapts to fixed inputs (like wearing clothes) and our bodies can react less to continuous input over long periods of time. The same theory can be applied to lasers. This means that animals with chronic problems that require long-term therapy might start to see declining results with a CW (Continuous Wave) fixed output laser. Based on current technology, we recommend buying a laser that does both pulsing and continuous wave output if it is within your budget. (Read More about pulsing and CW advantages)
For advanced users that will be treating a wide variety of conditions, a multiple wavelength, pulsing, and continuous laser with lots of power is the best option. If you just want a "point and shoot" laser, that will help your veterinary therapy without having to spend a lot of time on setup, buy the product with the most power that you can afford. If you must compromise, focus on wavelengths, but make sure you get enough power. Consider pulsing as a second priority.
Selecting A Laser
There are many great options for cold lasers for companion care and veterinary applications. In most cases, the big decision is whether to buy a class 4 system or a lower power system. Class 4 systems are the best option for anyone with a significant volume of animals to be treated OR for problems that require treating a large or deep area OR for people who want faster results. Lower power system will accomplish the same tasks but it will take more treatments and longer treatment to get accumulated dosage. They are doing the some thing but slower. Really low powered system can be so slow that people give up before they see results. That is why we don't sell systems less than 450mW. The following lasers are all great for veterinary and companion pet therapy.
Using the Laser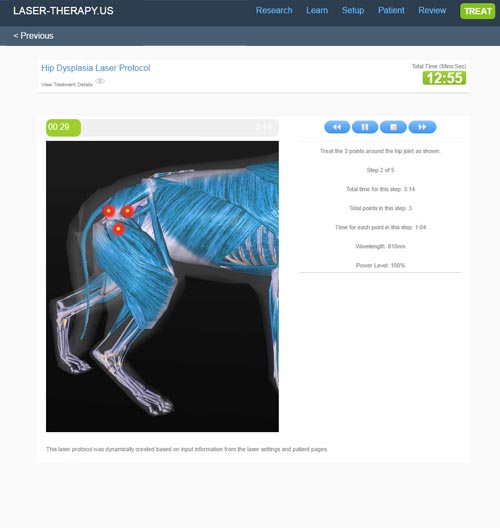 One of the last critical areas to consider when buying a system is the level of training that comes with the laser. Many systems from other sellers do not include adequate training on how to use the laser on pets and horses. Every system that we sell includes the laser-therapy.us animal protocol library (You can see all the available protocols here). The laser-therapy system dynamically calculates dosage based on key factors like the size of the dog and color of the dogs fur. If you are using a printout of other statically created protocol, you need to get your calculator out or your your dosage can be horribly wrong. Size, fur color and therapy objective have a huge impact on selecting the best dosage for the best results. This is especially key for anyone who does not have experience using a laser on an animal. When you purchase any animal laser from ColdLasers.org, we include the information that you need to properly treat animals using the current best practices.
If you need assistance with selecting which option is best for you, we are here to help! Please call us at 1-800-388-0850 or use the form below to ask a question.
Here are a few reasons to buy from ColdLasers.Org
ColdLasers is a "Brick and Mortar"


Located at 921 Main Street in Louisville, CO, we are no virtual store front, we are the biggest and best PBM store in the US.

The Best Support in the Laser Industry


We will do everything in our power to make sure you get unbiased advice, the best training and the best service support.

The Industries Best Protocol Library
Every laser comes with the Laser-Therapy.US library. This app follows the best practices for laser therapy and dynamically creates pictorial treatment plans for over 250 different conditions for humans, pets and horses. This is the best training tool in the industry.

No Sales Tax Outside Colorado


The price on the site is the total price if you live outside of Colorado.

Warranty Support


All our system include a warranty between 1 and 5 years. If there is a problem, contact us and we will help you.
30-Day Satisfaction Guarantee
Pros get a 30-day 100% money back guarantee on any new system. Home users get a 30-day guarantee but pay a 15% restocking fee.

Custom Marketing Support


With any Pro system over $5000, you get a custom marketing kit . We send you original artwork including flyers, pamphlets and posters.

The ColdLasers.Org Reputation




Since 2002, we have supported tens of thousands of customers and maintained a 5-Star rating. You can trust ColdLasers.Org.

An A+ BBB Accredited Business




As a top-rated BBB business, ColdLasers.Org has established itself as "The Trusted Name In Cold Lasers".

Low Price Guarantee




ColdLasers.Org will beat any published competitive price and give you better support and training.

Free Shipping


Every cold laser system over $2000 includes free 3-Day shipping to anywhere in the US and Canada.

We Accept all Major Credit cards


We also accept checks and wire transfers.

Financing for Professionals Available


We work with many different financing companies who focus on financing for professional.

Your Transaction is protected

| | |
| --- | --- |
| | Your Transaction is Secure because it is processed using RapidSSL 128-bit encryption. We don't keep any personal credit information. |