PowerMedic Cold Laser Systems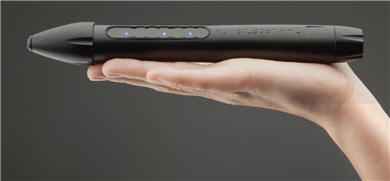 We recommend the PowerMedic for anyone looking for a really simple higher dosage class 3b system. They put the similar technology into the powerlaser as they put into the Gigaa laser and do it will an 'Apple' flair. With 4 models to choose from, these affordable lasers include up to 3 laser diodes for a total power of 3 watt (peak). These system use their trademarked HyperPulsed technology which means that the system has a 50% on/off pulsing ratio so the model 1500 systems will deliver 1.5 joules/sec.
Unlike the rest of the cold laser market, PowerMedic specs their lasers based on RMS or average power output. Since they all have a standard 50% duty cycle (HyperPulsed means the system is on 50% of time and off 50% of the time), they rate their 1 watt systems at 500 (.5 watt) and their 3 watt system at 1500mW (1.5 watts). All their systems are Class 3b because they de-rate the system based on the pulsing but these power level are comparable or exceed many class 4 lasers. When comparing the PowerMedic to most other lasers, use the peak power and not the average power for a better comparison.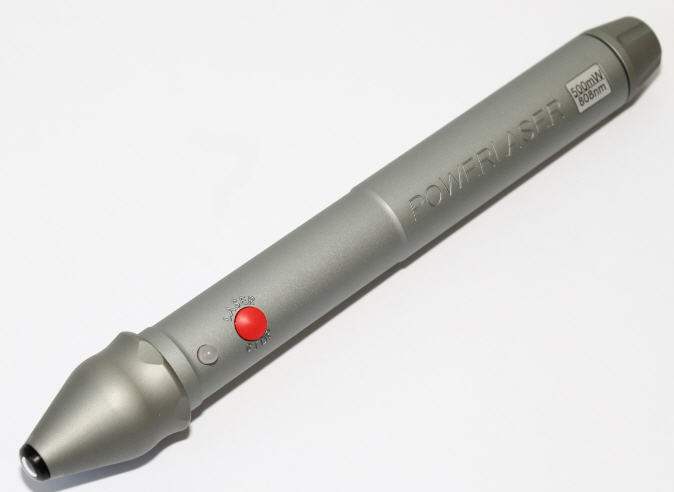 Their low-cost Basic systems come in 2 versions, the Basic 500 single laser diode model for trigger point therapy and the Basic 1500 with 3 laser diodes for broad coverage to structural problems. These systems offer simple operation with high power levels in a rugged design. You get a great discount when you buy a combo package. This package is perfect for an acupuncturist or anyone who needs a high powered focus laser for trigger point therapy and laser acupuncture but also wants a broad coverage laser for treating larger painful areas and bigger structural problems.
Their Pro systems use a combination of colored LED lights, vibration and sound to help users know what the laser is doing without having to read a display. Their products have a simplicity and refinement that you will not find on other laser of the same class.
Both the Basic and Pro series are built in an aluminum case and the Pro includes a unique slider control panel for turning on and adjusting the lasers setting. With a standard 2-year warranty and rugged design, these lasers are great for both professional and home use.
The real savings are in the combo packs. Get 2 lasers for just a little more than a single laser. If you want to do a combination of broad coverage (PowerLaser 1500) and pinpoint coverage (PowerLaser 500), the combo system is perfect.
PowerLaser 500 Basic
Single Diode 1000mW (500mW average) at 808nm
(Recommended for Acupuncture and trigger point therapy.)
$2,995 US


(Recommended: This is 90% of sales for Powermedic)
$3,995 US

PowerLaser Basic Combo
Single Diode 1000mW (500mW average) at 808nm
Plus 3 Diode 3000mW
$5,495 US

PowerLaser 500 Pro
1000mW (500mW average) at 808nm w/slider

$3,995 US

PowerLaser 1500 Pro
3000mW HyperPulsed (1500mW average) at 808nm w/slider

$4,995 US


PowerLaser Pro Combo

One 3000mW (1500mW average) at 808nm w/slider &

One 1000mW (500mW average) at 808nm w/slider

$6,995 US


The GigaLaser

18000mW laser @ 808nm + 9000mW red LED @ 660nm + 9000mW blue LED @ 405nm


$39,900
Please Call
The Powermedic systems are pulsing only and operate at 2000Hz.
The Powermedic Pro has 2 sliders to control some of the variables associated with laser therapy. The first slider controls the power level.
| | | |
| --- | --- | --- |
| Program | Pro 500 | Pro 1500 |
| P1 | 100 mW | 300 mW |
| P2 | 225 mW | 675 mW |
| P3 | 500 mW | 1500 mW |
The second slider controlled the total treatment time and the interval between the notification beep, that can be used to control the dosage.
| | | |
| --- | --- | --- |
| Program | Pro Total Treatment time | Beep Interval |
| P1 | 60 seconds | 10 seconds |
| P2 | 200 seconds | 20 seconds |
| P3 | 600 second | 60 seconds |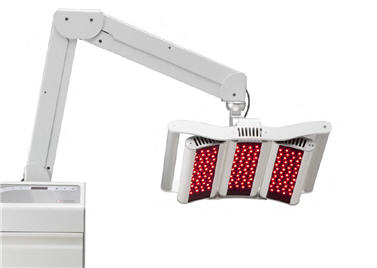 PowerMedic Lasers makes one of the highest output machines in the cold laser market (the GigaLaser) and they use that same engineering expertise to build affordable handheld systems. The GigaLaser offers a mind blowing 18,000mW of power at 808nm plus 9000mW at 660nm and 9000mw at 405nm for a total of 36 watts. This HyperPulsing class 3b system uses an array of 500mW laser diodes to build a system that is the ultimate option for getting saturation levels of energy into large areas. Capable of delivering over 2000 joules per minute, this system is perfect for back pain and treating other large areas. No one else can deliver this level of power density and diversity with no risk of significant tissue heating.

All the PowerMedic products are FDA cleared class 3b products. Made in Denmark, these lasers provide new style to cold laser therapy in the US.
Here are a few reasons to buy from ColdLasers.Org
ColdLasers is a "Brick and Mortar"


Located at 921 Main Street in Louisville, CO, we are no virtual store front, we are the biggest and best PBM store in the US.

The Best Support in the Laser Industry


We will do everything in our power to make sure you get unbiased advice, the best training and the best service support.

The Industries Best Protocol Library
Every laser comes with the Laser-Therapy.US library. This app follows the best practices for laser therapy and dynamically creates pictorial treatment plans for over 250 different conditions for humans, pets and horses. This is the best training tool in the industry.

No Sales Tax Outside Colorado


The price on the site is the total price if you live outside of Colorado.

Warranty Support


All our system include a warranty between 1 and 5 years. If there is a problem, contact us and we will help you.
30-Day Satisfaction Guarantee
Pros get a 30-day 100% money back guarantee on any new system. Home users get a 30-day guarantee but pay a 15% restocking fee.

Custom Marketing Support


With any Pro system over $5000, you get a custom marketing kit . We send you original artwork including flyers, pamphlets and posters.

The ColdLasers.Org Reputation




Since 2002, we have supported tens of thousands of customers and maintained a 5-Star rating. You can trust ColdLasers.Org.

An A+ BBB Accredited Business




As a top-rated BBB business, ColdLasers.Org has established itself as "The Trusted Name In Cold Lasers".

Low Price Guarantee




ColdLasers.Org will beat any published competitive price and give you better support and training.

Free Shipping


Every cold laser system over $2000 includes free 3-Day shipping to anywhere in the US and Canada.

We Accept all Major Credit cards


We also accept checks and wire transfers.

Financing for Professionals Available


We work with many different financing companies who focus on financing for professional.

Your Transaction is protected

| | |
| --- | --- |
| | Your Transaction is Secure because it is processed using RapidSSL 128-bit encryption. We don't keep any personal credit information. |