Class 4
EVOlaser Class-4 Therapy Laser Systems (Coming Soon)
Quick Specs

Applications: FDA clearance in process

3 Standard Output Options:

-9,000mW (9W) @ 810nm
-15,000mW (15W) @ 810nm
-Tri-wavelength 7W @ 980nm AND 7W @ 810nm AND 200 mW @ 635nm
Waveforms: CW, Pulse
Stock: Soon
Delivery: April 1, 2019
Shipping: Included
Warranty: 2 Years

$9850 to $14500
Finally, there is top quality FDA cleared class-4 laser designed exclusively for the all the major health markets that offers high-end features and great support at a more reasonable price. The EVOlaser crushes the other well-established lasers like K-Laser™ , Aspen™ and LiteCure™ by providing all the higher-end features for up to 1/2 the cost of competitive systems. The EVOlaser packs a large 7.2 inch touchscreen into a small overall package so it provides a better compromise between portability and ease of programming when compared to the tiny 4.2 inch screen of the K-laser and the bulky housings of the Aspen and K-laser.
All EVOlaser have a primary wavelength of 810nm. Recent independent research has shown that 810nm is the best wavelength for deep penetration, photobiomodulation and it get the best results for almost all application where healing is the primary goal. In the research, they found that 810nm provides up to 30 times the penetration as 980nm system. (If you are looking for a mainly thermal laser [980nm], we can special order a 980nm-only systems). The EVOlaser higher-end options offer 980nm as a secondary wavelength and it is independently controlled at 980nm and 625nm wavelength just like the high-end multi-wavelength system. As a secondary or tertiary wavelength 980nm is great for those those that also want muscle relaxation and increased circulation in addition to the 810nm primary wavelength. Even though 980nm and 635nm are outside of the therapeutic window, they still add benefit in many applications and make the laser more flexible. EVOlaser systems easily switches between pulsing and continuous wave and includes an extensive internal protocol library. All systems come in a waterproof case with 2 pairs of glasses.
Model
S9
S15
T15
Power & Wavelength
9 watt @810nm
15 watts @ 810nm

7 watts @ 810nm
7 watts @ 980nm
200mW @625nm

Typical Dosage
6480 joules in 12 minutes
9000 joules in 10 minutes
8000 joules in 10 minutes with wavelength diversity
Emitter
Straight
Angled
Angled
Best Application
Huge step up from most class 1-3 laser systems.
Perfect for medium and large practices.
Provides the maximum flexibility
Price
$9850

$12,300

$14,500

EVOlaser offers 3 different models for different type of users. After years of supporting a wide range of practitioners, we came to the conclusion that very few practitioners really needs a 60 watt laser. Although these are the highest profit lasers so many manufacturers really push them, very few practitioners have the volume to make it worth the risk and downsides of buying a 30-60 watt system. After looking at the trade-offs of price, weight, reliability and safety on the extremely high power lasers, we made the decision to stay out of this type of sales and focus on the sweet spot where we see the best result and best ROI without the downsides of over-powered machines. This means that all the EVOlaser range from 9 to 20 watts.
Accessories
Magna Cart - This is a great cart for the EVOlaser in a veterinary office. This system protects the laser and keeps everything organized. $799

Yeti Pack - Our custom-built portable system mounts the laser and a Yeti 150 battery into a professional quality wheeled backpack. This system can power the laser for up to 15 hours and also power your cell phone, table or other medical equipment. It is perfect for mobile vets and equine applications. If the battery fails after the warranty, you can simply swap it out for another Yeti 150. Total system weight is 18 lbs $950.
Superior Protocol Support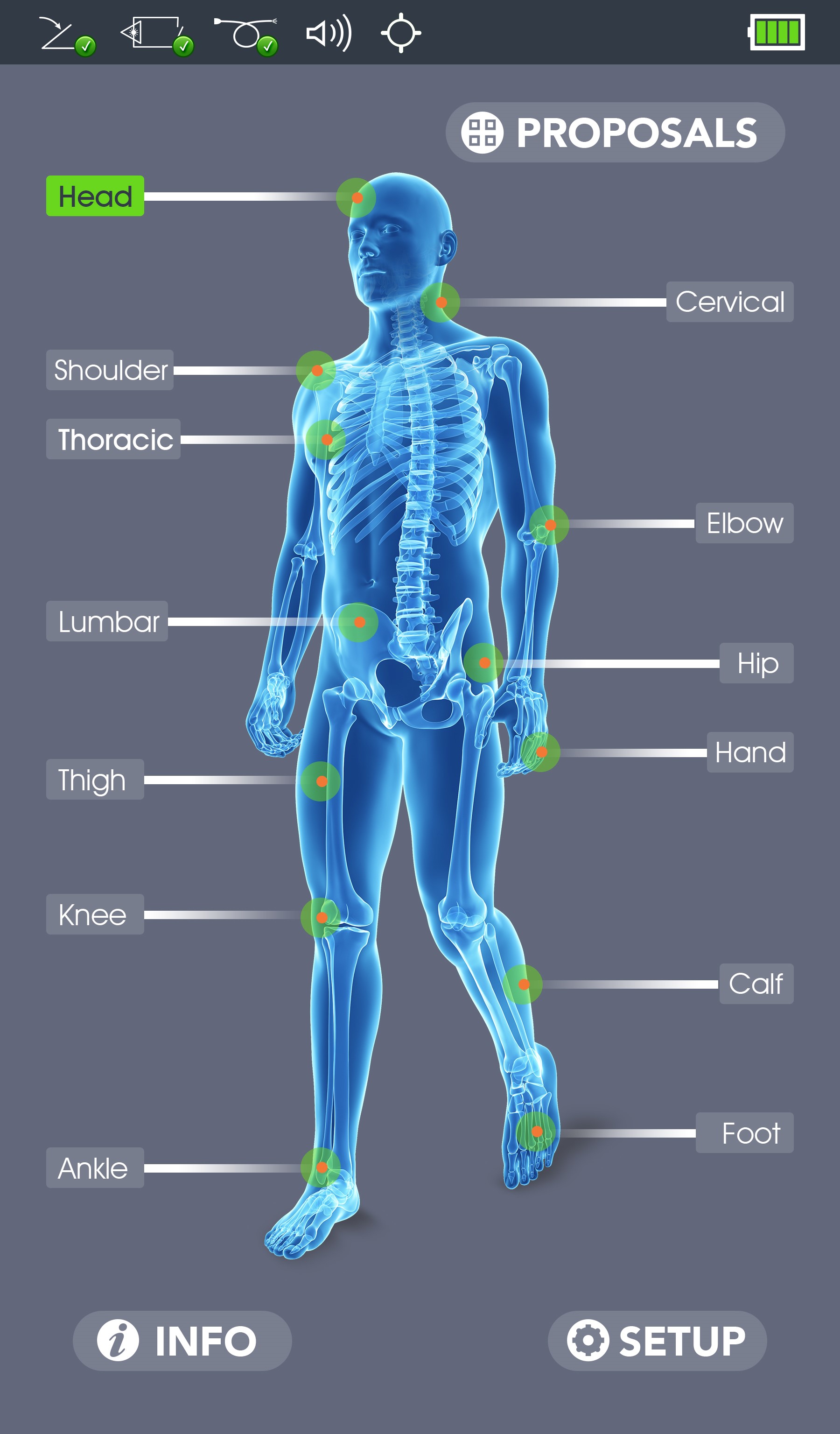 We know, based on over 20 years of experience, that most laser companies don't put much effort into their protocols. In many of the "huge" protocol libraries form other companies, only the name of the protocol changes. They all default to to delivering max power for 10 minutes and no pulsing. Some systems will put the same dosage into an arthritic thumb as the put into a bad hip, defying all logic and therapy standards. The advanced internal library on the EVOlaser works perfectly with our extended protocol library to set the laser up to get the best result for each condition listed in the library. If you have used another high-end system, then you will really appreciate the effort that went into the EVOlaser protocols. It has one of the best internal protocol libraries of any high end laser and better protocols deliver superior results.
Fully Adaptive Protocols and Programmable Duty Cycle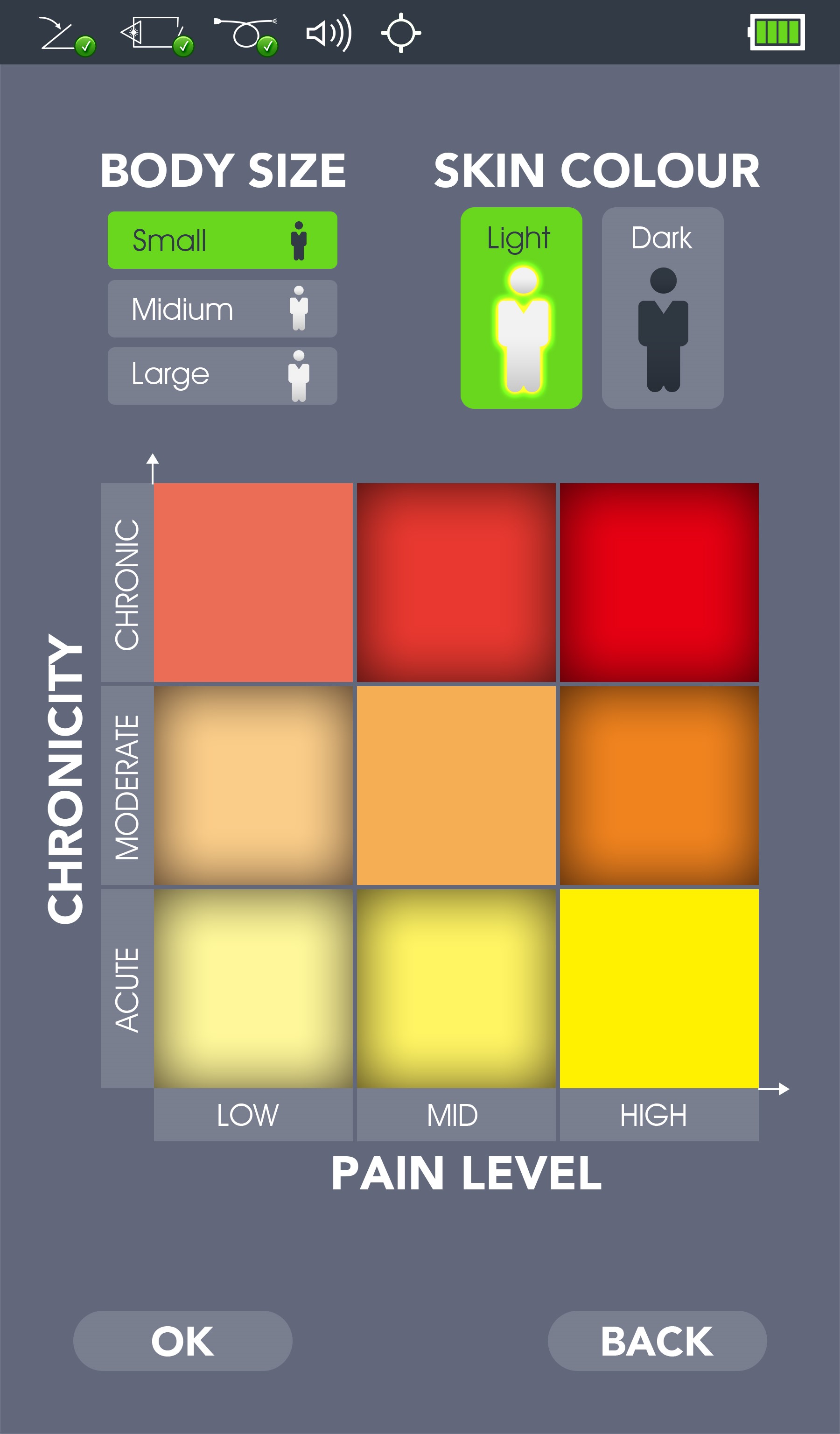 The EVOlaser follows the best industry practices (like our protocol library) by adapting the treatment parameters to the patient. The setup screen to the left shows how each protocol is adapted based on the patient size, skin color and the chronicity of the condition. In addition to follow the best industry practices, the avant system allow for manually over-riding the system. One of the secrets of the laser industry is the effect of duty-cycle (on/off ratio) on the dosage delivery. Many systems like the LiteForce use a fixed 50% duty cycle. What this means is that users are paying a very high price to get a 25-watt system (that costs about $30,000) that only puts out 12.5 joules/second anytime they are pulsing the laser. Since you pulse the laser for most application, most users are wasting a huge amount of money because they are confused by the specification and how they change the performance. The EVOlaser solve this problem by providing users the ability to program the duty cycle. With the EVOlaser, you can set up to a 99% duty cycle so that means that a $12,300 (15 watt) EVOlaser pulsing at 99% will delivers more power (14.8 joules/second) and save you $16,500 when compared to a LiteForce system. It makes you wonder why anyone would ever overpay so much.
The "Right" Angle Emitter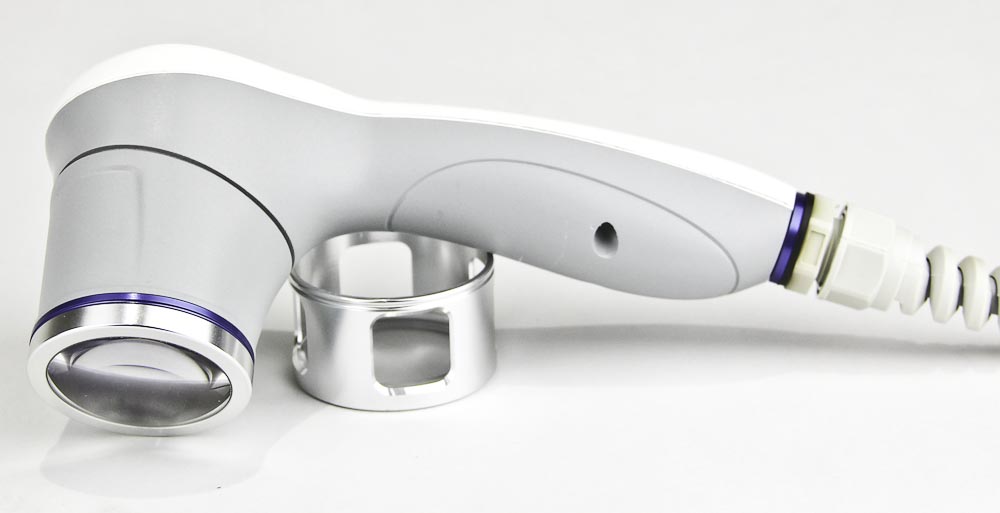 The EVOlaser 15 watt systems have the right angle emitter that is more ergonomic than the standard straight emitter on most systems. Unlike the cold metal edge of the Nexus and K-Laser emitter, the smooth rounded clear plastic emitter lens and right angle construction makes this emitter perfect for applying light pressure while moving the laser around larger treatment areas. The right angle emitter head is less fatiguing to use because you don't have to drag that long semi-rigid cable around the patient when you are treating different sides of the body, just flip your wrist. The smooth plastic handle is ergonomically designed to fit comfortably into your hand and the integral start/stop button is easy to use. Any way you look at it, the EVOlaser emitter will make every therapy session easier.
The sealed plastic lens is also more hygienic than track ball emitters that traps dead skin around the roller. Just wipe down the head with an to clean it. You don't have to take apart a track ball after every patient to remove the trapped dead skin and germs like you should with a roller ball emitter. It also delivers a much higher efficiency through the optical quality lens than you can get trying to pass laser energy through a optically inefficient sphere. The higher efficiency and cleaner probe is a big step up from older designs.
Beautiful and Functional
The beauty of the EVOlaser is more than just skin deep. The product is built with the highest quality components from top to bottom so you can expect many years of trouble-free service. The Aspen system performs a self-check at boot up so you know it is working properly.
The specially-designed emitter combines a smooth rounded-head with a flexible fiber-optic cable and a built-in on/off finger switch for great easy of use. The smooth emitter head is a big upgrade for treating animals because it does not pull out dander from the fur or hair. Not more dragging a sharp metal edge over an area where someone already feels pain or hovering over the area. The smooth emitter head allows direct contact with the skin which can push blood out of the area momentarily and allow up to 10% better energy transmission to deep tissue areas.
Power
The EVOlaser sticks to the most established wavelength, 810nm, as the primary wavelength and allows secondary wavelengths for 980nm and 625nm. Although both these wavelength have a shallower depth of penetration, they are great for supplemental therapies. For animal with hoof and blood related problems, the 625nm wavelength is preferred and when you want a wavelength where most of the energy is converted into heat, the 980nm can be used for increasing circulation and extra pain control. This system give practitioners full access so they can optimize their treatment for a wide variety of applications. The EVO laser provides for a very high 3-dimensional power density that many experts think is the key to better therapeutic outcomes. Although lower power devices can deliver the same total energy level given enough time, they can never reach the same power density of the EVOlaser class-4 systems.
Speed
For some practices, minimizing patient treatment times while still delivering great results is a high priority. For these types of practices, the 15 watt EVOlaser provides a cost effective solution. Practitioners can deliver 4500 joules in 5 minutes so this device gives you the option to have extremely short treatment times or deliver very high dosages for maximum impact for their patients. Because the EVOlaser has the programmable duty cycle (on/off ratio), you can deliver 4300 joules pulsing in 5 minutes. This totally crushed most other systems that have a fixed duty cycle of 50% or less. EVOlaser, you can create custom protocols that include high duty cycle pulsing. We often recommend pulsing in the 4 - 40 Hz but at a 95% or more duty cycle. This give practitioners both pulsing and higher dosage. Very few other system on the market allow this control at any price.
Future-Proof
The EVOlaser system has the ability for firmware upgrades through the built in USB port and advanced operating software platform. This feature protects your laser from becoming obsolete and allows it to stay up to date with your business.
Unlike some other Class 4 lasers, EVOlaser does not require a long startup time. Turn it on and the laser boots up and is ready for service. Similar products can take up to 10 minutes to warm up the laser before you can start your first therapy. EVOlaser systems are built using much of the same design principals as surgical lasers so they are design for critical operation and made to last.
In the picture on the left, you can see an EVOlaser on the Magna cart (build originally for Multiradiance lasers). We love this combination because the cart is at a good standing or sitting height and it is all metal so it is heavy enough that it will not tip over. The pocket in the front is great for holding the glasses and manuals and the metal top plate help protect the fiber optic cable because it fits into a slot. If you will be using the laser in a multi-room office, this cart offers the best overall performance and it can help extend the life of the system.
Portability
Every detail on the EVOlaser is top-of-line and that extends to the water-resistant carrying case (included).
This not one of those cheap aluminum hard cases that weighs a lot but scratches and dents easily, this is the same type of water-resistant case (Pelican Style) used by professional photographers to protect their most expensive equipment. Inside the case is soft custom foam inserts for holding all your accessories. After seeing way to many damaged products cased by the problems with cheap aluminum cases, we specified the almost indestructible hard plastic case on the EVOlaser.
Smart
When you combine all these features with the exceptional support and service you get from ColdLasers.Org, you can't go wrong with an EVOlaser. Although we still call this system a cold laser, it does warm tissue to the touch so it includes training as part of the package to ensure maximum safety. This training can be done using FaceTime or Skype or over the phone.
All 3 systems include laser, emitter, hard case, 2 pairs of glasses, manuals and training. The price also include shipping.
This system can be sold to professionals and for home use..
Comparison of class 4 lasers*
Product
Infra Red Power
Interface
Emitter
Output
Price

EVOlaser S9

EVOlaser S15

EVOlaser T15

10,000mW@810

15,000mW@810

3 Wavelength

7.2 inch touch

Straight Emitter

Right Angle Emitter

Right Angle Emitter

CW and Pulse

$9850

$12,300

$14,500

Aspen™

10,000mW@980nm

8 inch Touch
Right Angle Emitter
CW and Pulse
$10,995
Pilot Laser
9,000mW@810nm
LED with membrane keypad
Aluminium Cylinder
CW and Pulse
$7,995
Apollo
Desktop 5000
5,000mW@810nm
LCD
smooth glass direct emitter
CW Only
$6,999

LiteCure™

LiteForce Pro

9,000mW@980nm
8 inch Touch
Roller ball
CW and Pulse
$19,000

Eltech K-Laser™ Cube 3

15,000 mW ISP
12,000mW CW -
100mW @ 635nm 12,000mW 810nm
12,000mW 980nm

4.8 inch Touch
Metal standoff can be used unattended
CW and Pulse
$19,000

Eltech K-Laser™ Cube 4

20,000 mW ISP
15,000mW CW -
100mW @ 635nm
12,000mW 810nm
20,000mW 910nm
12,000mW 980nm

4.8 inch Touch
Metal standoff
Most protocols are based on Pulsing but can do CW

$24,000
---
Detailed Specifications
Touch Screen
7.2-inch full color
Internal Library
Searchable by condition
Custom Protocols
Yes
Warranty
2 Years
Included Accessories
Heavy-Duty Carrying Case, Safety Goggles (2 pairs), Therapy Handpiece, and full documentation
Options
Portable Cart
System Controller
Weight
5 lbs / 2 Kg
Dimensions
7.5" (W) X 7.6" (L) X 11"(H)
Operating Voltage
110/220 VAC, 5A, 50/60 Hz
Laser Peak Power
9W (9,000mw)
Laser Class
4
Fiber Optic Connection
400 microns with a SMA905 connectors
Operating Parameters
Laser
810nm
Emitter
GaAlAs Diode Laser
Operating Mode
Continuous Wave (CW), Pulsing (Frequency) Single, or Repeat Variable Pulse
Pulse Duration
10Ás-3s
Repetition Rate
0.2Hz-20KHz
Aiming Beam
Red Diode Laser, Wavelength: 635nm, Power:1-3mW
Self-Calibrating
Yes
Here are even more reasons to buy from ColdLasers.Org
We Are the Only "Brick and Mortar" Laser Store in the U.S.


Visit Us at 921 Main Street in Louisville, CO. We are no "here-today-gone-tomorrow" laser store, we are the biggest and best laser specialty store in the US.

The Best Support in the Laser Industry


We will do everything in our power to make sure you get unbiased advice, the best training and the best service support.

The Industries Best Protocol Library
When you buy from ColdLasers.Org, you don't have to guess how to use your new laser. Every new laser comes with the Laser-Therapy.US Therapy Tool. This system dynamically creates pictorial treatment plans for over 250 different pain/inflammation/bloodflow related conditions for humans, pets and horses based on real world patient factors.

No Sales Tax Outside Colorado


The price on the site is the total price if you live outside of Colorado

30-Day Satisfaction Guarantee


Pros get a 30-day 100% money back guarantee on any system. Home users get a 30-day guarantee but pay a 15% restocking fee.

Custom Marketing Support


With any Pro system over $5000, we will create custom marketing literature for your business and send you the original artwork including flyers, pamphlets and posters.

The ColdLasers.Org Reputation




Since 2002, we have supported over 10,000 customers and maintained a 5-Star rating. You can trust ColdLasers.Org.

An A+ BBB Accredited Business




As a top-rated BBB business, ColdLasers.Org has established itself as "The Trusted Name In Cold Lasers".

Low Price Guarantee




ColdLasers.Org will meet or beat any competitive price on any cold laser and we will give you better support and training. Just give us a call for more information.

Free Shipping


Every cold laser system we sell includes free shipping to anywhere in the US and Canada.

We Accept all Major Credit cards


We also accept checks, wire transfers, Bitcoin, Ether, LiteCoin and Dash.

Financing for Professionals Available


We work with many different financing companies who focus on financing for professional. We can help you get rates as low as 5%.

Your Transaction is protected

| | |
| --- | --- |
| | Your Transaction is Secure because it is processed using RapidSSL 128-bit encryption and Quicken. We don't keep any personal credit information on our system. |
---