ML830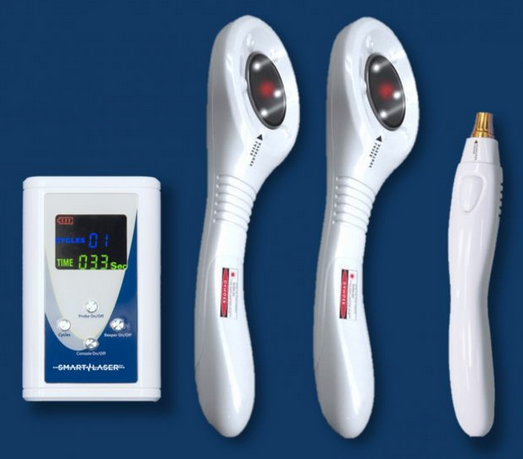 The patented ML830™ Smart laser is manufactured by Microlight™ and it is truly a legend. Microlight has a long and distinguished history that makes their products unique. First, they have a patent on the wavelength of 830nm for use in therapy lasers. Because the ML830 was used in several very successful research projects, many people want to recreate the same result so they want the exact same wavelength and dosage as the study. If you find any successful research publication that used 830nm, it had to be the Microlight.
The ML830 gets its name from the fact that the design is based on a wavelength of 830nm (GaAIAs), which is in the center of the therapeutic light window. The emitter of the ML830 has a power level and coverage that allows for a penetration capacity of up to 5cm. . This is over double the tissue penetration of an a HeNe (632nm) laser. When this product was first release, it was cutting edge and that excellence continues with their newer products.
Microlight systems have a 1-year warranty and are made in the US. The system comes with glasses, laser warning sign and a user manual. The system come with 1, 2 or 3 emitters that can be used simultaneously so you can treat the front and back of a knee at the same time to cut the treatment time by 50%.
| | | |
| --- | --- | --- |
| 1 Paddle System | 2 Paddle System | 3 paddle System |
| $4,995 US | $6,995 US | $8,995 US |
Optional Probes:
In addition to paddle for large treatment areas, the Microlight has optional probes for acupuncture, trigger point and treating smaller areas.
Probe $1,995 Please call for more details
The ML830 was used in several clinical studies including one at GM. General Motors had serious problems with Carpal Tunnel Syndrome among its workers. GM conducted a 36-week double-blind study, using the ML830 to see if non-invasive therapy would help. The study was based on 166 afflicted GM workers. Those treated with the ML830 laser showed significant improvement in grip strength and range of motion when compared to other GM workers who were treated with placebo lasers. In addition, a prominent medical school in Houston conducted a similar double-blind study on Carpal Tunnel Syndrome in 1998 and that study showed a 70% improvement among those patients in the active group.
Everyone in the therapy laser world is grateful for the ML830 because it was the first 3b laser to get FDA clearance for the non-surgical treatment of Carpal Tunnel Syndrome. The company also has FDA clearance on other LLLT devices for temporary relief of minor muscle and joint pain and stiffness, and arthritis. The product comes in multiple versions and they are continuing to develop new products. Early system were continuous wave only but they have now embraced pulsing making their products comparable or superior to many class 3b systems. The ML830 can successfully treat a number of health conditions because it offers both direct treatment of larger areas and probes for trigger point, acupuncture and treating smaller areas. There is a growing body of knowledge based on successfully clinical studies that prove that cold lasers, like the ML830, can be used to trigger the release of ATP and successful treat both pain and inflammation.
General Specifications
Laser Class

3b

FDA Cleared Laser

Yes

FDA Cleared LED (heat lamp to provide muscle and joint pain relief)

Yes

Laser Power (not led)

90mw

Laser Wavelength

830nm

Double Blind Studies

Baylor College of Medicine
and GM Motors
The original application for the ML830 is Corpal Tunnel therapy. This is where Microlight has received their FDA clearance and it is where they have their best clinical work. The product can be an excellent choice for those seeking a high safety factor 3b laser in the $5,000 range. Contact us for more information about the Microlight ML830.