LS50
MR4® LS-50 Cold Laser Package with 50w LaserShower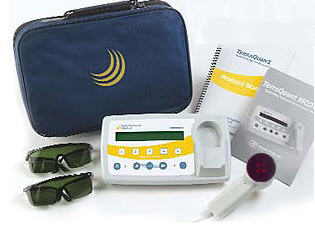 The LS-50 package features the MR4 console with an LS-50 handheld emitter. This product is a big step up from the MR4 Pro package because it includes the LS-50 emitter which incorporates four (4) super pulsed GaAs diodes with 50,000 mW of power in a larger 3.5 square inch array. The 3.5 square inches of coverage area is 5 times greater than the standard SE-25 emitter and the larger treatment area works better with unattended treatments. The additional power and coverage of the LS-50 emitter cuts therapy times by over 50% while increasing the depth of penetration. LS-50 Cold Laser Package is a great choice for professionals because has the highest power density of any MR4 product and it allows for the addition of a second emitter in the future. Combine this product with the DX-2 cart project the most professional image to your patients.

MR4 LS-50 package includes:
MR4 Console
LS-50 Emitter

4 GaA Super-Pulsed Lasers
4 Infrared Emitting Diodes
4 Red Light Emitting Diodes
Smooth head for better control when moving from one area to another

2-pair of Laser Safety Goggles
Soft Sided Case
Operating Manual, DVD & User's Guide
Protocol Manual
2 year Limited Warranty
LS-50 Emitter
The LS-50 handheld emitter completes the LS-50 TerraQuant system. The emitter incorporates four (4) super pulsed GaAs diodes. The 3.5 square inches of emitter area can cover 5 times more area than the standard SE-25 emitter. This emitter is ideal for stimulating greater systemic effects and for treating the spine or large muscle groups. The LS-50 emitter is not compatible with the PS-4 probe set.
THIS PRODUCT REPLACES THE TERRAQUANT LS50 SYSTEM.
MR4 LS-50 Cold Laser System


Lead Time


5 Days

$7,495



Express shipping to anywhere in the US is free (including Alaska and Hawaii).
---
General Specifications
Outputs
3
Max Power
3 x 50,000 mW
FDA Cleared
Yes
Overall
Weight
4 lbs / 1.5 Kg
Dimensions
11in x 6in x 3.5in (27cm x 15cm x 6.5cm)

Laser Peak Power
50W (50,000mw)
Coverage Area
20 cm2
Super Pulsed Laser
4 GaAs Super Pulsed Laser
Infrared Light
4 Infrared Emitting Diodes
Red Light
4 Red Light Emitting Diodes
Wavelength
Laser
905 nm
Infrared
875 nm
Red
660 nm
Class II Equipment Applied Part Type BF
Laser Class
1M (IEC 60825-1)
Weight
Dimensions
---
Optional Equipment
| | | |
| --- | --- | --- |
| MR4 SE25 25 Watt Emitter | MR4 console comes equipped with two emitter ports. This gives you the ability to upgrade your Multiradiance laser to a dual emitter system when you see fit. | |
| SG-2 Goggles | Additional pair of green safety goggles | |

The Terraquant LS-50 Cold Laser System is unlike any other laser system on the market today. In addition to being FDA cleared, this product delivers exceptional power and coverage area to accelerate treatment and increase the chance to hitting the target.