Cold Laser Toenail Fungus Removal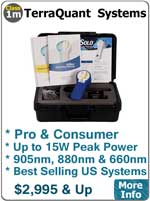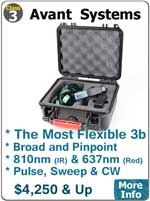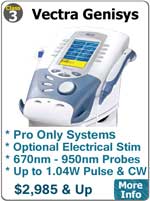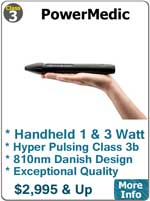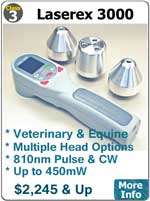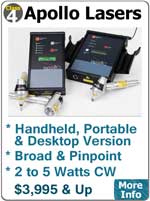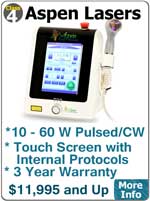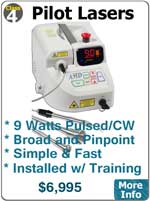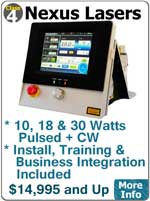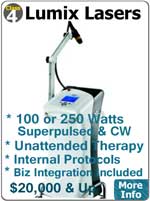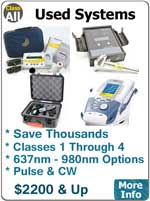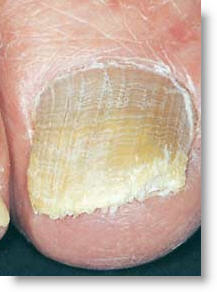 Toenail fungus, medically known as onychomycosis, is a widespread problem affecting up to 10 percent of American adults, or 23 million people. This condition results in toenails that are thick, yellow and sometimes smell bad. People who have nail fungus spread it by shedding invisible spores when they walk barefoot in locker rooms or across carpets.
Currently there is no 100% effective cure. The current options are:
Pharmaceuticals
Lacquers and ointments
Homeopathic remedies like tea tree oil, Listerine, Vicks VapoRub and Clorox
Hot laser treatments
The root of the problem is that toenail fungus is very hard to kill. The toenail fungi are so hardy, in fact, that popular anti-fungal pills are effective less than 50% of the time and they carry a small risk of liver damage. Pharmaceutical giants like Schering-Plough and Novartis are developing new products to address this market but these options continue to have unforeseen side effects that can cause permanent damage. Prescription lacquers can be painted on the toenails, however this treatment is effective less than 10% of the time and requires daily treatment for 48 weeks.
Currently, there is no data on homeopathic remedies since these cures are not regulated. Typical homeopathic remedies include using Clorox, tea tree oil, Vicks VapoRub and even Listerine. These product are all know for their anti-bacterial properties but getting the solution under the toenail is difficult, if not impossible.
The forth option is the use of a hot laser to kill the fungus. This is the opposite of most therapeutic laser applications that promote natural healing growth using lower levels of power to heal the cells. The newest solution is based on using a class 4 laser that is typically used for healing but the emitter is specifically created to focus and drive the energy through the toe nail. By swapping out the large treatment area probe with a pinpoint probe, a system with as little as 10 watts can blast the energy through the toe nail and kill the fungus under the nail. As the same time, this system helps promote healing of the surrounding tissue because of the natural properties of the laser.
Toenail Fungus Laser Therapy
Although there are some low power cold laser manufacturers that claim they can use a laser that is designed to heal and use it to treat toenail fungus, the efficacy is very low. If you own a cold laser, it is worth a trying but do not buy a cold laser for this application and do not expect great results. With all the major laser toe nail fungus systems, the laser is used because the light energy can pass through the toenail and put just right amount of heat into the under the nail to kill the fungus without being too painful. It is not the wavelength of light or the fact it is a laser that kills the fungus, it is the heat. Maybe there could be some improvement in the condition if the cold laser boosts the immune system but a cold system will never get the same results as a hot system. The wavelength (typically 980nm) of light helps with the pain control and healing of the area so companies like Aspen have created a protocol and pinpoint probe that is FDA cleared. The Aspen system is much less expensive than dedicated toenail fungus lasers and it is a dual purpose laser.
Average treatment costs here in Colorado. Other areas may be higher or lower.
| | |
| --- | --- |
| Treatment Level | Cost |
| One Toe | $300 - $400 |
| One Foot | $600 - $800 |
| Both Feet | $1200 |
These price include 3 treatments and 1 follow-up appointment (about 12 weeks after the treatment is complete).
Most toenail fungus clinics bill for this service in a package based on the number of toes. If you already have customers who would need a safer alternative for toe nail fungus removal, the payback on a combo therapy/toenail laser can be just a few months.
Toenail Fungus / Therapy Laser Systems
Aspen Class 4 10-watt 980nm Dual Application Laser System

Dual system for both Therapy and Toenail Fungus.
Price includes delivery and training.

In Stock:

Yes


$12,995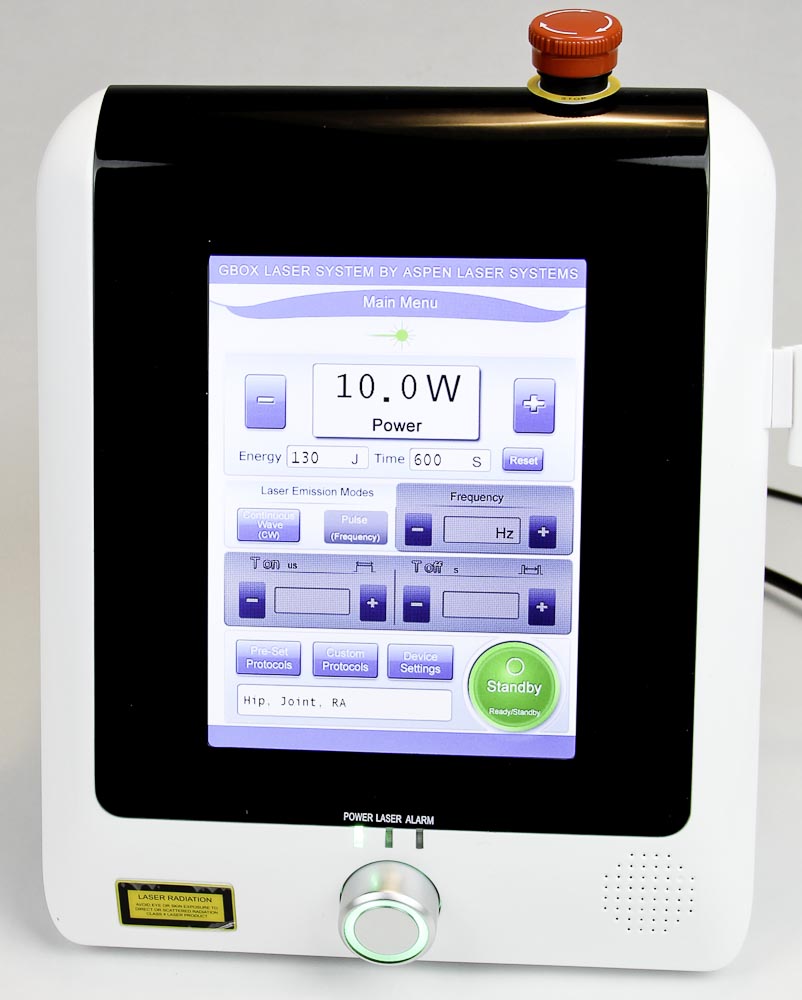 The Aspen system includes a large 9-inch touch screen with internal protocols. This system uses a cooled German-made laser module inside the controller and a fiber optic cable to transfer the energy to the probe. This system also comes with a 3-year warranty and the price includes training and installation. The system is, also, about the half the cost of any other professional toe nail treatment system.
Nexus 10 Class IV 10-watt Cold Laser System & Toenail Fungus Tool
Price includes delivery, installation and on site training.
In Stock
Built to Order
$14,995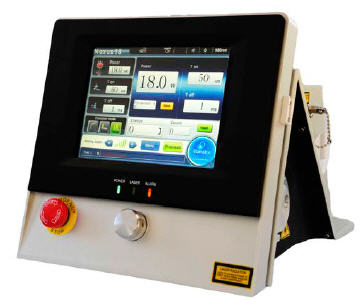 The Nexus 10 has an optional kit for their laser is FDA cleared for toenail fungus removal. The kit includes a pinpoint probe and training manual for treating toenail fungus. This system also has a big touch screen that makes setup easy and gives the patient a high-end medical device feel.
Dedicated Systems
In addition to the Aspen solution and Nexus, there are other players in the laser toenail fungus removal market, Nomir and PathoLase. Both these product are FDA cleared for toe nail fungus only and should not be used for laser therapy or as a pain control device. Astanza makes both tatoo removal and toenail fungus removal lasers.
Nomir Medical Technologies is a company in NY formed in 2003 that is developing a laser called Noveon for treatment of diseases like antibiotic-resistant staph infections as well as toenail fungi. The Noveon laser, which cost about $20,000, projects two different wavelengths of near-infrared light at toenails to selectively kill fungi. The results of an early clinical trial were presented at a national dermatology meeting. Their trial resulted in a 50% cure rate after four treatments, and a 76% cure rate after six months. The trial included a somewhat limited trial size, just 39 toenails. Richard F. Burtt of Nomir said the company was preparing to submit the data to the Food and Drug Administration, hoping to receive clearance to market Noveon for this application. The FDA has already cleared Noveon for use on the skin and in nasal passages.
PathoLase is another company selling a cold laser to address the market for anti fungal nail treatments. Their product, the PinPointe Footlaser, is an adaptation of a laser that has FDA approval as a dental laser but the company does not currently have approval to sell the product for the treatment of toenail fungus. Since the product has been sold for use on toenail fungus to about 70 different companies prior to getting federal permission to begin marketing the device, the company was in a pickle.
According to the Center for Devices and Radiological Health at the FDA, companies are legally allowed to market a medical device only for the specific use for which it had been granted clearance. Selling or promoting a device for unapproved indications is illegal.
Although nail infection is primarily a cosmetic issue like balding and cellulite, it can lead to serious health problems for people with diabetes and immune disorders. The entire toe nail fungus removal market was estimated to be 1.2 to 3 billion (with a "B") dollar market in 2013.
On October 20, 2010 PathoLase announced the Pin-Pointe Foot-Laser received clearance from the U.S. Food and Drug Administration (FDA) for the treatment of nail fungus (onychomycosis). During the procedure, which is administered by podiatrists, a specially-designed laser beam is directed across the nail.