Class 3b
VL1000 Portable Veterinary Laser
Quick Specs
Applications: Companion Pets and Equine

Output:

3000mW Peak Power
1000mW Average Power @ 810nm


Waveforms: Pulsed
FDA: Not Cleared - Animal Use Only
Stock: Currently Unavailable
Delivery: 3-4 days standard
Shipping: Free
Warranty: 1 Year
Includes Online Protocol Library: Yes

Professionals get a 30-day money back guarantee.

VL1000: $1,295

ColdLasers.Org is happy to offer a lower-cost portable animal only (Non-FDA cleared) pulsing-only laser for use on pets and horses. The VL1000 system is built to our specifications so we included some of the same specs as our more expensive FDA cleared class 3b systems. We test and certify that our systems deliver at least 1000mW or 1 J/sec pulsing. This system is really a non-FDA cleared lower-cost version of the basic Powermedic laser. It has a similar form factor, and performance and it is speced based on actual output and not the peak output like many US lasers. Inside this system is actually 3000 mW of laser diodes pulsing at a 50% duty cycle. It also has the laser diodes deeply recessed inside the system to increase the safely so the results is a system to produces at least 1 joule per second at a price far below any comparable products. The VL1000 cold laser systems offer many of the features of higher-end systems at a much lower cost including:
Power of 1000mW at 808nm with 3 separate 810nm laser diodes
Research has shown that 810nm is the most efficient wavelength for pushing the energy down deep where it can be converted into chemical energy and not wasting energy on heating the tissue (you can read more about wavelength here)
Standard Pulsing Frequency 50 Hz
The system beeps every 4 joules so you can use the sound as feedback when trying to hit a specific dosage.
2 sets of standard Lithium-Ion batteries. This means you can leave one set in the charger while using the 2nd set. These batteries should be a vial able years in the future so this system will not go obsolete like system with custom battery or permanently installed batteries.
Includes 1 pair of safety glasses for the operator
Complete training package including Laser-Therapy.us veterinary and equine protocol libraries
Pulsing
A recent study of current research (Effects of Pulsing in Low-Level Light Therapy by Hashmi Haung et all) has shown that pulsing the laser produces superior results in most cases except nervous system problems. The VL1000
Most of the similar priced systems are either a fraction of the power, use super-low-power LED technology, are illegal imports from groups that plan to disappear as soon as the authorities come knocking, they are not optimized for laser therapy or all of the above. In all these cases, they are a potentially high-risk purchase that has will probably produce poor or inconsistent results. Now, there is no reason to take a chance on these super low quality products. The VL series of laser gives all the features of a high-end system for a fraction of the cost.
The fly-by-night laser companies typically do not come with any significant support or instructions on how to use the system. Like all products on ColdLasers.Org, the VL1000 comes with a complete animal protocol library from Laser-Therapy.Us. This online library includes step-by-step cookbook style treatment plans for all the most common dog and equine therapies.
Pro Level Protocol Support and Training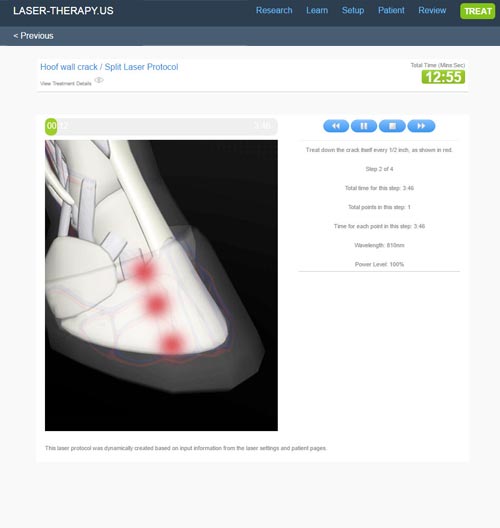 The VL1000 laser includes access to the laser-therapy.us animal protocol library. These step-by-step instructional treatment plans follow the best practices for laser therapy. Because the system runs on a phone, tablet or computer, it can adjust the dosage based on the dis a gnosis, animals size and fur/hair color. Most everyone knows that a black dog or a larger dog requires a much larger dosage so the treatment efficacy is random. When you buy a VL1000 laser from ColdLaser.Org, you will get access to all the graphic treatment protocols adapted specifically to the animals condition, treatment goal, color and size. The complete list of protocols is shown here.
Home Use
If you have had your cat, dog or horse treated with a laser at the veterinarian's office or barn, you know that animals often make a big change in their behavior after just a few treatments. There is no possibility of a placebo effect in animals with cold laser therapy so you know when your dog can jump up on the couch for the first time in months that the laser is helping your dog live a more pain free and happy life. If you have a long-term need for laser therapy, this system can save you thousands of dollars and hundreds of hours dragging your pet in for routine laser therapy.
Optical Output Power

1000mW Total Power

(based on 3 1000 mW pulsed at 50%)

Wavelengths

810nm +/-10nm

Output Frequency
Pulsing Only
Contact Surface
Glass surrounded by black painted metal
Pulsing Frequencies

50Hz

Average Usage Time
2 - 3 hours between charges
Battery
Lithium Ion 5200 mAh
Emitter Type
GaAlAs Semiconductor Laser Diode
Weight
10 Oz.
Here are a few reasons to buy from ColdLasers.Org
ColdLasers is a "Brick and Mortar"


Located at 921 Main Street in Louisville, CO, we are no virtual store front, we are the biggest and best PBM store in the US.

The Best Support in the Laser Industry


We will do everything in our power to make sure you get unbiased advice, the best training and the best service support.

The Industries Best Protocol Library
Every laser comes with the Laser-Therapy.US library. This app follows the best practices for laser therapy and dynamically creates pictorial treatment plans for over 250 different conditions for humans, pets and horses. This is the best training tool in the industry.

No Sales Tax Outside Colorado


The price on the site is the total price if you live outside of Colorado.

Warranty Support


All our system include a warranty between 1 and 5 years. If there is a problem, contact us and we will help you.
30-Day Satisfaction Guarantee
Pros get a 30-day 100% money back guarantee on any new system. Home users get a 30-day guarantee but pay a 15% restocking fee.

Custom Marketing Support


With any Pro system over $5000, you get a custom marketing kit . We send you original artwork including flyers, pamphlets and posters.

The ColdLasers.Org Reputation




Since 2002, we have supported tens of thousands of customers and maintained a 5-Star rating. You can trust ColdLasers.Org.

An A+ BBB Accredited Business




As a top-rated BBB business, ColdLasers.Org has established itself as "The Trusted Name In Cold Lasers".

Low Price Guarantee




ColdLasers.Org will beat any published competitive price and give you better support and training.

Free Shipping


Every cold laser system over $2000 includes free 3-Day shipping to anywhere in the US and Canada.

We Accept all Major Credit cards


We also accept checks and wire transfers.

Financing for Professionals Available


We work with many different financing companies who focus on financing for professional.

Your Transaction is protected

| | |
| --- | --- |
| | Your Transaction is Secure because it is processed using RapidSSL 128-bit encryption. We don't keep any personal credit information. |