MedX
MedXHome Console Cold Laser System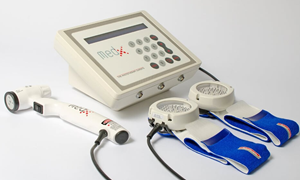 The new MedX 3116 console powers the MedX low level laser and superluminous diode accessories. It is easy to use - built-in guidelines prompt you through decisions related to selection of parameters, then automatically calculate and display treatment times. Alternatively, if the treatment parameters are known, the manual mode allows for quick, easy setup. The system includes 6 preset treament protocols.
Three accessory ports provide the flexibility to use any combination of accessories with either continuous or pulsed mode.
The MedX accessories include a hand-held low 450mW level laser and a hands-free super luminous diodes (SLD) cluster.
Once activated, the console displays the time and energy delivered for each port separately and automatically
turns itself off once treatment is completed. Multiple sites can be treated at the same time.
The MedXConsole System features:
A lightweight hand held laser with 450mW continuous or pulsed modes
2 SLD light diode emitters with 52 SLDs totaling 2000mW
FDA cleared and Health Canada cleared.

Produced at an ISO 9001: 2000 and ISO 13485: 2003 certified manufacturing and testing facility.
Medx is know for high quality and high reliability.
3 Year warranty
The MedX Console is the top-of-the-line therapy product from MedX health.
MedX Console Cold Laser System with 1 laser emitter and 2 SLD light diode clusters


In Stock


No

$4,195
Ground shipping to anywhere in Canada and the US is free (including Alaska and Hawaii).
The MedXConsole System includes:

Control Console with LED display, keypad and 3 accessory ports

450mW Laser Probe

2 1000mW SLD clusters

Operator Manual plus treatment protocols guide with over 85 user friendly protocols
FDA cleared (K050022 ? May 2005).
---
General Specifications
Laser Peak Power
450mW
SLD Peak Power
52 SLDs totalling 1000mW
---
Here are 5 great reasons to buy your MedX from ColdLasers.Org:
| | |
| --- | --- |
| | Google Checkout: Shop with confidence. |
| | The Google Checkout fraud protection policy covers you against unauthorized purchases made through Google Checkout, and Google doesn't share your purchase history or full credit card number with anyone. |
| | MedX Try-It Policy |
| | All MedX Laser systems have the option for a 30 days trial lease. Contact us for pricing on the lease of a TerraQuant laser. Keep it and the lease payment applies to the purchase. |
| | A BBB Accredited Business |
| | As an Accredited BBB business, ColdLasers.Org has established itself as "The Trusted Name In Cold Lasers". If you ever aren't happy with our service, the BBB will help resolve the issue. |
| | Low Price Guarantee |
| | ColdLasers.Org will meet or beat any competitive price on MedXcold lasers. Just give us a call for more information. |
| | Free Shipping |
| | Every MedX cold laser includes free UPS ground shipment to anywhere in the US and Canada. |
---

The MedX Console Laser Therapy System is the perfect product for professionals. In addition to being FDA cleared, this product is Health Canada cleared.