Apollo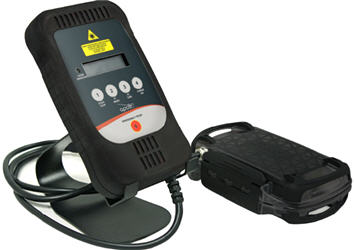 The Apollo handheld unit HH2000 is rated as a class 3b even though the power level of 2 watts is well within the class 4 standards. Because the system uses 4 laser diode at 500mW each, it can deliver the high dosages that everyone has come to expect from the other class 4 Apollo systems but with less regulatory restrictions. With a power of 2,000 mW, you won't find this level of safety, quality and power for this price from any other manufacturer. This system can operate off the battery, which is included, or just plug it in for all day usage.
The Apollo hand held system features:
LCD display that provides probe status and treatment times
User controlled treatment times selectable between 10 seconds and 2 minutes
Built in safety and fault detection software
Built in power test for assessing probe output
Advanced Protocol training manuals
Key activated on/off power system
Standard 2 year warranty
This product requires a recommendation letter if it will be used for treating humans at home. It can also be sold to non-professionals for equine and vet use.
Battery Operated Apollo Hand Held System

Hand held system with 2,000mW 810nm continuous wave output, travel bag, power adapter, stand, 2 pair safety goggles, training DVD, book, operation manual and web app.
Stock: 1 weeks lead time

Shipping: Free

$3,604Discontinued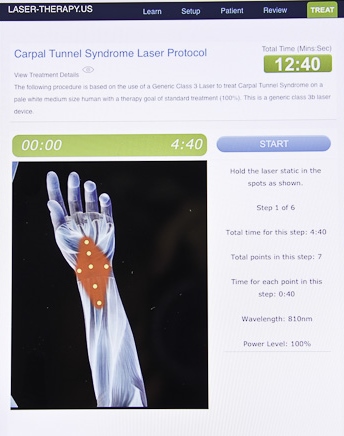 Every Apollo system from ColdLasers.Org also comes with a web-app that can run on a computer, tablet or phone. The website application creates step-by-step custom therapy plans for over 100 conditions for humans, pets and horses. The system includes a therapy timer to tell users exactly how long to hold the laser in place for the best results. The step-by-step protocols take all the stress and guesswork out of finding the optimum energy target for a variety of conditions by telling where to use the laser. (Ipad not included)
You no longer have to look up a condition in the manual and then do manual calculations to adjust for skin color, patient size and therapy goal, with this new system. In just seconds, you can customize a protocol and let the app do all the math. For those with a lot of experience with cold lasers, you may know many older protocols missed the current standard by up to 1000%. Using 7 different variables (laser output, pulse rates, power level, patient type, skin pigment, patient size, treatment goals and condition), the Laser-Therapy.US system calculates and controls the treatment plan for the best results.
Apollo Cold Laser were recently discussed in the NASA Tech Briefs (Nov 2009).
Specifications
2000mW Laser Output


| | |
| --- | --- |
| Optical Output Power | 2000mW (4 x 500mW Emitters) |
| Wavelength | 810nm +/-5nm |
| Output Frequency | Continuous Wave |
| Beam Divergence | 9 x 38 degrees |
| Power Density | 2500mW/cm2 per Emitter |
| Emitter Type | GaAlAs Semiconductor Laser Diode |
| Weight | <1.0 lb |

Control Unit

| | |
| --- | --- |
| Treatment Timer | 60-second count down timer |
| Mode of Operation | Continuous |
| Operating Frequency | Continuous Wave |
| Duty Factor | 100% |
| Batteries | 10x 1.2V 2.5Ah NiMH Rechargeable Cells |
| Battery Operation | ~2hrs at 2000mW |
| Power Adapter | In: 100~250VAC 50~60Hz Out: 18VDC 1.3A |
| Dimensions (l x w x h) | 9" x 4" x 2" |
| Weight | 1.8 lb |
The Apollo laser system comes with a 2 Year Parts & Labor and requires no mandatory servicing.