Apollo
Apollo is one of the most popular class 4 professional portable cold lasers because it offers fast treatment time in an extremely safe system. For practitioners who don't want an Apollo desktop unit, the Apollo Portable offers extreme power and safety in a durable and portable unit. The battery operated control unit can be used with a variety of standard probes including the 500 mW trigger point probe and the 3,000 mW broad coverage probe operating at 810 nm wavelength. There are 2 stock systems that are based on the most common emitter probes.
These are both FDA cleared and Health Canada certified products.
Apollo Portable Cold Laser System with 3,000 mW Cluster Probe

Controller + 3,000mW 810nm Continuous Wave Cluster Probe


In Stock: Yes

Shipping: Free

$6,327 US


Apollo Portable Cold Laser System with 500 mW Pinpoint Probe
(For Acupuncture, trigger point and small treatment areas)

Controller + 500 mW 810nm Continuous Wave Pinpoint Probe


In Stock: Yes

Shipping: Free

$5,177 US

Apollo portable lasers offer a unique advantage over many other low level lasers. Apollo portable cold lasers one of the easiest to use class 4 lasers on the market. Apollo stands out with their ability to combine a portable (battery operated) product with extremely high power levels and a very low price. The portability makes it great for practitioner with multiple therapy rooms. The portability also makes it a great device for coaches as it can be used on the field to reduce pain and swelling associated with athletic injuries. The system is designed with a 60 second count down timer. The practitioner uses this timer to consistently deliver a measured amount of energy into each treatment area. The hand held unit weights less than 1.8 lb and comes with a key to limit unauthorized usage. The bright green display shows current battery level and the system can operate for about 2hrs with 3000 mW Cluster Probe. This unit is fixed output making it simple to use
This system can be purchased with either a GaAlAs optional cluster probe and there is the option to add pinpoint laser probe to any system. The 3000 mW 810nm pinpoint laser is designed to be used similarly to an acupuncture needles. It can be used focus the energy in a specific part of the body to release energy similarly to a acupuncturist.
The 810nm cluster probe is a good feature because it allows a relatively high power density (2500mW/cm2) over a larger area. The larger treatment area means that the treatment is more likely to effect the "sweet spot" of the aggravated area. This is especially critical when dealing with pain and inflammation in a joint area. A Pinpoint laser typically treat such a small area that they may never actually deliver energy where it is most needed. The total power for the cluster is 3000 mW.
Apollo claims that their system is the most effective, portable therapeutic laser on the market today. With Treatment times are often less than 2 minutes,this system is mainly focused on alternative medicine practitioners who want to supplement their service with the addition of cold laser treatments.
In the lab, this system has shown promising result for the treatment of inflammation and the pain associated with joint damage. Although some patients may be a benefit from just one treatment, most patients need multiple treatments. This may be due to the fact that the exact location inside the body where the inflammation is starting must receive a "direct hit" for the laser for maximum impact. Although a seasoned practitioner may know where to target for specific problem, many resulting reactions are caused referrals from another area.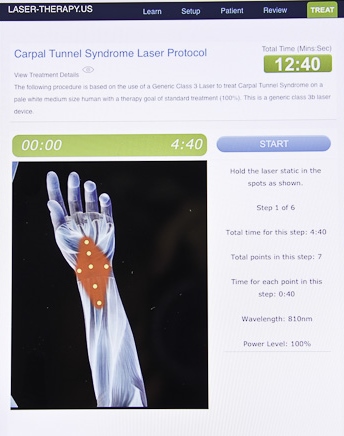 Every Apollo system from ColdLasers.Org also comes with a web-app that can run on a computer, tablet or phone. The website application creates step-by-step custom therapy plans for over 100 conditions for humans, pets and horses. The system includes a therapy timer to tell users exactly where to use the laser and how long to hold it there for the best results. The step-by-step protocols take all the stress and guesswork out of finding the optimum energy target for a variety of conditions. (Ipad not included)
With this new system, you no longer have to look up a condition in the manual and then do manual calculations to adjust for skin color, patient size and therapy goal. In just second, you can customize a protocol and let the app do all the math. If you have a lot of experience with cold lasers, you know that many older protocols missed the current standard by up to 1000%. Using 7 different variables (laser output, pulse rates, power level, patient type, skin pigment, patient size, treatment goals and condition), the Laser-Therapy.US system calculates and controls the treatment plan for the best results.
Apollo Cold Laser were recently discussed in the NASA Tech Briefs (Nov 2009).
Specifications
3000mW Laser Cluster Probe


| | |
| --- | --- |
| Optical Output Power | 3000mW (4 x 500mW Emitters) |
| Wavelength | 810nm +/-5nm |
| Output Frequency | Continuous Wave |
| Beam Divergence | 9 x 38o |
| Power Density | 2500mW/cm2 per Emitter |
| Emitter Type | GaAlAs Semiconductor Laser Diode |
| Weight | <1.0 lb |

500mW Single Laser Probe

| | |
| --- | --- |
| Optical Output Power | 500 mW (1 x 250mW Emitter) |
| Wavelength | 810nm +/-5nm |
| Output Frequency | Continuous Wave |
| Beam Divergence | 9 x 38o |
| Power Density | 5000mW/cm2 |
| Emitter Type | GaAlAs Semiconductor Laser Diode |
| Weight | <0.5 lb |

Control Unit

| | |
| --- | --- |
| Treatment Timer | 120-second count down timer |
| Mode of Operation | Continuous |
| Operating Frequency | Continuous Wave |
| Duty Factor | 100% |
| Batteries | 10x 1.2V 2.5Ah NiMH Rechargeable Cells |
| Battery Operation | ~2hrs with 2000mW Cluster Probe |
| Power Adapter | In: 100~250VAC 50~60Hz Out: 18VDC 1.3A |
| Dimensions (l x w x h) | 9" x 4" x 2" |
| Weight | 1.8 lb |
The Apollo laser system comes with a 2-years warranty and requires no mandatory servicing.