Solo
TerraQuant TQ Solo Modes of Operation And Use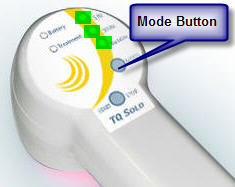 The TerraQuant TQ Solo is the perfect cold laser for both home and professional use because it is so simple, yet powerful enough to treat the most serious conditions. The TQ Solo has a simple 2-button setup program that allows easy access to 3 standard treatment protocols in only a few seconds.
Startup And Shutdown
Startup is an easy 3 step process.
Press and Hold the start/stop button until the TQ Solo cold laser turns on.
After the TQ Solo laser finishes the self test, press the mode button to rotate the mode though all 3 options. The light will show the current mode (shown in green).
Press the start/stop button to begin the treatment. The emitter will turn on.
The laser will stop after it completes the 5-minute treatment. Press and hold the Start/stop button for 5 seconds and the laser will turn off.
Modes of Operation
The TQ Solo has 3 standard operating modes. Each mode uses a different frequency and each of these frequencies has different effect on the body. The table below shows a summary of the different modes of the TQ Solo:
| | | | |
| --- | --- | --- | --- |
| Program / Mode | 1 | 2 | 3 |
| Pulse Frequency | 5 Hz | 59 Hz | 1000 to 3000 Hz |
| Time | 5 Minutes | 5 Minutes | 5 Minutes |
| Systemic Effect | Tissue Repair / Healing | Anti-inflammatory | Acute Pain Treatment |
| Depth Of Penetration | Deepest | Medium | Superficial |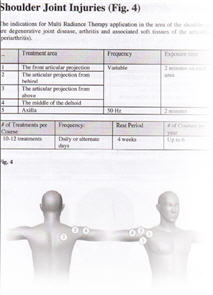 The user's manual includes standard setup recommendations for the 14 most common therapies (see right side). Using these standards along with the modes in the table above (also shown in the users manual) practitioners and home users can develop treatment protocols for a variety of unique health issues.
The same condition often requires multiple treatments. For example, the treatment of arthritis requires a 5 minute treatment in mode 3 for pain therapy and 5 minute treatment in mode 1 for deep healing on each treatment area. For patients that have arthritis in multiple areas, or one larger area, you may need more that 2 treatment per day. Depending, you may need up to 10 treatments per day or about 1 hour of treatment time per day. For home users, where time is not an issue, an hour of treatment is not a big deal. Professionals, who have a steady patient load, may want to consider stepping up to a higher level TerraQuant laser like the TerraQuant Pro. The TerraQuant cold lasers have the same basic operation, the higher level product just have more power and more setup options for accelerated treatment.
Make sure to read the users manual before creating any new treatment protocols since there are precautions for certain types of treatment.
---
TerraQuant TQ Solo

The Terraquant TQ solo is the perfect cold laser for home use. It is specifically designed for ease of use and instant results. The super-pulsed laser technology allows this laser system to be sold without a prescription or license, making it the most powerful system available for home operation.